Personal Oasis of Claire Grace Watson, B.A., M.S.T., Shield Guide
BRIDGING THE WORLDS - p7/13
ARCHAEOASTRONOMY, PHAISTOS DISK, AND THE WORLD OF BRIDGE


Warriors guarding the perimeter on the Phaistos DIsk


Page 7 - PRE-EUCLIDEAN GEOMETRY
Where did Euclid get his plane geometry for which he is so famous? Seems to be a hand-me-down from the Mediterranean Bronze Age, passed to them perhaps from Egypt. Or possibly Crete shared knowledge with Egypt and helped build the Great Pyramid?

When all the matching pictographs are connected to themselves, every piece of Euclidean geometry emerges, 1,300 years before Euclid lived. Revealed are diameter, right triangle, cone, every kind of triangle, polygons, parallel lines of same length and different length, and significant, large images of the Great Pyramid, inside and out, an image of the constellation Argo, the spiral maze with geometry at the center, and a big star inside a heptagram - maybe that's the star Sirius inside the seven planets, maybe it's the path of Venus, maybe it's the ancient symbol for astronomy, or maybe it's all of these! Did the Minoans have a geometry philosophy called Planeism?

I had wondered before why the spiral was sort of uneven, when obviously there are a lot of "perfect" spirals in the Minoan art, but of course if the spiral was "perfect" then the patterns for the constellations and geometric shapes would not be accurate. So it makes the artistry involved in creating the disk even more impressive! (Rhona Bloxsom - Reading, England)










Then there are the esoteric interpretations, such as Claire Grace Watson, who tracks down a description of the mysteries of Isis and Osiris, and argues that the record contains a "Demonstration of Euclidean geometry 1300 years before the same Euclid taught in Alexandria, Egypt and astronomical configurations as they appeared nearly 4,000 years ago." Erewohen

)
---
MINOAN FASHION - THE FEMALE FORM REVERED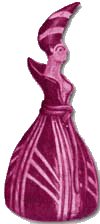 The Minoans were supposed to be a "mother goddess" civilization and perhaps experienced a tranformation of myth from Egypt to Crete - from Isis to Rhea. It seems that men and women in Minoan Crete often wore topless, and sometimes bottomless, fashions. The Minoan women may have been inspired by the mother goddess (left) who appears "topless" on the Phaistos Disk.
These 3,600 year-old fashions seem postmodern, as if Alexander McQueen, the avant-garde designer, had a Minoan predecessor who came up with them. Lady Gaga would wear them if she could! These brilliant works of clothing art are included to show how innovative these people were, how easy it was to produce something simple and rudimentary, from their perspective, as the Phaistos Disk.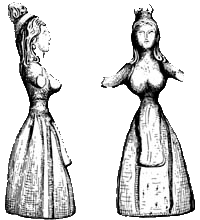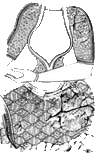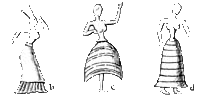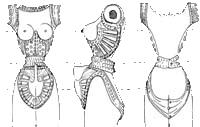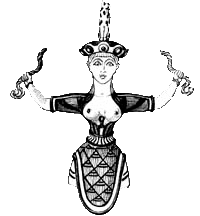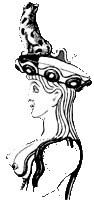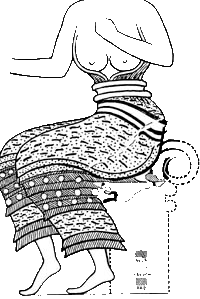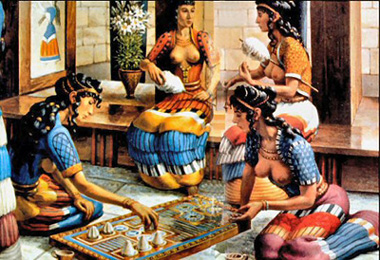 ---




Page 1 - Ancient Puzzle Solved | Brilliant Ancient World
Page 2 - Interview with Jonas | Valuable Background in Bridge
Common Approach | Can You Read the Phaistos Disk?
Self-Hypnosis
Part 3 - Dream Perspective | Great Pyramid, Exterior
Two Pyramids?
Part 4 - Great Pyramid, Interior & Subterranean Chamber
Phaistos Disk Maze of Daedalus
Part 5 - Great Star in the Sky
Part 6 - Constellation Argo
Page 7 - Pre-Euclidean Geometry | Minoan Fashion
Page 8 - Solve the Maze | Minoan Pottery
Page 9 - Minoan Calendars | Minoan Lunisolar Calendar
Zodiac Stellar Calendar | Minoan Sothic Calendar
Minoan 366-Day Year | How Was the Phaistos Disk Made?
Page 10 - Phaistos Disk Pictographs
Page 11 - Fishing Lessons | Big Game Hunter
First Woman Airline Pilot | The Stearman | The AT-6
Page 12 - Brilliant Musician | Debutant Career | English Teacher
Booted Out of School | Hostess Career
Page 13 - Crash Landing | Marauder Pilot | Bridge Boyfriend
Dedicated to Billy | Money Bridge Pro
Archaeoastronomer Career

---

MORE ABOUT ANCIENT SCIENCE AND THE PHAISTOS DISK

---
| Many Hidden Patterns
Page 2 - The Tablet | Who Created It? | How to Solve It
Page 3 - Constellation Argo - The Ferry | Khufu Ship | Rope Truss
Argo Sails Backwards for 2,300 Years!
Page 4 - North Star | Enochian Language
Linear "A" for Argothic? | Egyptian Influences
Page 5 - Great Pyramid Exterior
Page 6 - Pyramid Interior | Pyramid Goddess
Archaeoastronomy Site | Vault Technology
Page 7 - Minoan Warriors
Page 8 - Apex and Base
Minoan Symbols for Star and Constellation
Page 9 - Pyramid Geometry
Page 10 - Maze Solution | Phi Spiral
Page 11 - Conclusion | Unidentified Patterns | Ships of the Sky
Page 12 - Minoan Calendars | Minoan LuniSolar Calendar
Minoan Zodiac Stellar Calendar | Minoan Sothic Calendar
Minoan 366-Day Year Calendar
Page 13 - Brilliant Lost World
Page 14 - Origins of the Phaistos Disk | How Was it Made?
Page 15 - Evans Pictographs
Page 16 - Pictographs Numbered | Entire Inscription
Page 17 - It's Full of Stars! | Hoax Defense | Infamous Letter
Wrong Motivation | Conclusion
Page 18 - Galileo on Philosophy | The Crater of the Whorl
Remembering the Whorl | Planeism |Tree of Life
The Arktype Astrology | Waking Whorl and Dream Whorl
Page 19 - The Phaistos Disk | Hidden Patterns | Emerald Table
Astronomer-Artist | As Above, So Below | Planeism
Page 20 - Crete Invents Modern Astrology
sexagesimal System | Phi Spiral | Astronomical Ages
Birthing Stone of Zeus | Watcher Unseen
Page 21 - Phaistos Disk Color Animations
Page 22 - Phaistos Disk Maze of Daedalus
Daedalus, Cunning Artificer | Palace of Knossos
Daedalus Invents Images
Page 23 - Animated Geometry
Page 24 - Shield of Achilles
Page 25 - Great Pyramid on the Phaistos Disk
Page 26 - Constellation Argo Sail Backwards for 2,300 Years
Page 27 - North Star, Sirius, the Planets and Stars
Page 28 - 3,600 Year-Old Animation
Page 29 - Phaistos Disk Clay Pictographs
Page 30 - Emerald Table of Hermes Trismegistus



---
MORE ABOUT ANCIENT SCIENCE AND EXTRATERRESTRIAL INTERVENTION
---
Page 1 - Alien Participation | Amazement | Minoan Civilization
&nbsp &nbspDeep Dark Sea | Central Court | The Minotaur
&nbsp &nbspTheseus and Ariadne
Page 2 - Space-Time Continuum | The Shields
Page 3 - Universe Mindless?
Page 4 - Numerical Reality
Page 5 - The Field Fabric
Page 6 - The Pious Country
Page 7 - Spiritual Legacy from the Stars
---
MORE ABOUT ANCIENT SCIENCE AND THE MEDITERRANEAN WORLD
---
Page 1 - Introduction | They Look Like Us
Others Don't Look Like Us | Space Cadets | Daath Bridges
Atlantis | Secret Science | Cool Geometry
Sirian Slide Graphic Computer
---
DISK OF THE WORLD
A Spiritual Revelation about the Enlightenment and its Social Repression

This is a Shield Guide portal. We are a vast organization of beings from all parts of the universe and an interdimensional organization of life systems that represent a winged body of planetary systems. We assist in developing light-network domains and appear when requested to shield and guide civilizations on ascension paths. We form portals bridging this evolutionary domain to others in the universe on similar ascension paths.
BOOKS, ARTICLES, ART, AND WEB DESIGN BY
CLAIRE GRACE WATSON
PHAISTOS DISK INSPIRED WEBSITE
Copyright Notice - Disk of the World - Text and images copyrighted March 21, 1993-2021, Claire Grace Watson, B.A., M.S.T., U.S. Copyright and under the Digital Millennium Copyright Act of 1998, All rights reserved. No part of this web page may be reproduced or transmitted in any form or by any means without written permission from the author, except for the inclusion of brief quotations in a review.