PHAISTOS DISK SOLUTION - HIDDEN PATTERNS - p1/30
PHAISTOS DISK MAZE OF DAEDALUS - JOURNEY TO THE GREAT PYRAMID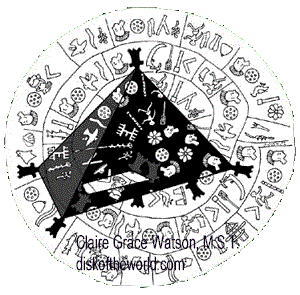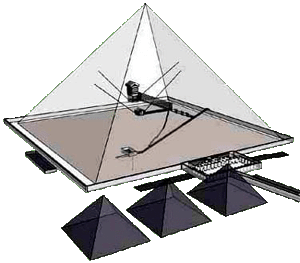 Phaistos Disk Hidden Pattern -
Great Pyramid Interior
and Subterranean Chamber compared with computer generated Great Pyramid Interior at Giza
Page 1 - MEDITERRANEAN BRONZE AGE ANTIQUE SCIENCE
Containment of Geometrical Arrangements
Phaistos Disk seems to be covered with hidden patterns of a
GEOMETRY THEOLOGY AND NUMBER PHILOSOPHY
that preserves the science that built the Great Pyramid and
that became the foundation of Western Science and Religion
This disk comes from Minoan Crete, the ancient civilization famous for the Maze of Daedalus and for naming our constellations. The disk is only 6-1/4" in diameter and 1" thick. Mathematics is apparent on the disk, and even if we cannot understand what the disk is all about right away, we can discover Mediterranean Bronze Age concepts of mathematical symmetry on this disk just by counting the pictographs, the spirals, and the line segments.
The artifact is terracotta pottery and only a litte larger than a CD, with 2 inscribed sides and 2 spirals per side, each spiral with 5 rings (10). The spirals are divided into 60 line segments (30 Side 1, 30 Side 2). The outside spirals have 12 line segments (24 outside); inside spirals have 18 (36 inside). Divided among the line segments and pressed into the the disk are 48 unique miniature pictographs, most of them replicated to create 240 pictographs. 37 are created to appear identical and are repeated various times. 11 are unrepeated.
The disk was found in 1908 at Phaistos, Crete, beneath the palace in a basement corner accessible by a trap door above, where the palace had been burned to the ground by an intense fire. This could explain how the disk came to be fire-hardened in a civilization of sun-baked pottery. Beside the disk was a tablet of Linear A writing (undeciphered) of ancient Crete, perhaps explaining it.
The disk delivers complex information in a simple way. Based on the Minoan love of mazes and the ancient method of forming constellations by connecting stars with lines, the disk conceals the constellation Argo and other related images that are revealed when matching pictographs are connected by lines.

Taking a clue from this unique, unrepeated pictograph (left, man holding a shield with seven tiny circles in the shape of a hexagram), the connect-the-dots approach of viewing the disk reveals in total eight significant and complex images or larger pictographs as well as numerous simple geometries concealed on the disk.
Euclidean Geometry on the Phaistos Disk - Diameter, Points connected with Lines; the points are the total matching pictographs connected with lines (my exact tracing of the disk).
Where did Euclid get his plane geometry for which he is so famous? Seems to be a hand-me-down from the Mediterranean Bronze Age, passed to Crete perhaps from Egypt. Or possibly Crete shared knowledge with Egypt and helped build the Great Pyramid? That's my wild speculation :) but it does become evident via the Phaistos Disk that the Minoans had intimate knowledge of the Great Pyramid - the outside, the inside, from above, from below, from the side. Evidencing their knowledge of the Egyptian concept of Duat, they also knew of its existence high above in the stars as the sails of the constellation Argo.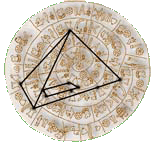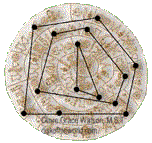 Images above from left to right: Constellation Argo, North Star, Great Pyramid Exterior, Great Pyramid Interior, Great Pyramid Apex and Base, Great Pyramid - Apex, Base and Two Sides, Great Pyramid Geometry - Right Triangle, Great Pyramid Perimeter Geometry
These identifiable large pictographs (above) are revealed by connecting all of their matching pictographs. See below the pictographs on the disk that are variously repeated and intended to appear to be identical.
It has been discovered that connecting similar signs arranged in concentric circles on an enigmatic artefact known as the "Disk of Phaistos" enables a hidden geometry to emerge...It seems to show signs amounting to a language but if it is a language no one has found a way to decipher it...
However, Claire Grace Watson has argued very cogently that these signs are ideograms not hieroglyphs -- so perhaps this disk is in itself a maze. Her practice of connecting similar signs on the disk with each other, as in a drawing puzzle where you join the dots, has generated startling results. Geometrical shapes are readily generated. The disk employs a geometry of alignment that goes beyond number and a set-square. Hers is an ingenious solution to a long-standing enigma, and it reinforces the notion that the ingenuity of the Cretans was valued in Egypt and throughout that fertile zone of the ancient world. (The Step is the Foot: Dance and Its Relationship to Poetry, Anthony Howell)
UNIQUE PHAISTOS DISK PICTOGRAPHS
| | | | | | | | |
| --- | --- | --- | --- | --- | --- | --- | --- |
| | 2. | 3. | 4. | 5. | 6. | 7. | 8. |
| 9. | 10. | 11. | 12. | 13. | 14. | 15. | 16. |
| 17. | 18. | 19. | 20. | 21. | 22. | 23. | 24. |
| 25. | 26. | 27. | 28. | 29. | 30. | 31. | 32. |
| 33. | 34. | 35. | 36. | 37. | 38. | 39. | 40. |
| 41. | 42. | 43. | 44. | 45. | 46. | 47. | 48. |
48 unique pictographs are distributed in the spirals in a seeming random way over both sides of the disk for 240 impressions. When all the matching pictographs are connected to themselves, every piece of Euclidean geometry emerges, 1,300 years before Euclid lived. Revealed are diameter, right triangle, cone, every kind of triangle, polygons, parallel lines of same length and different length, and significant, large images of the Great Pyramid, inside and out, from below, from above and from the side, an image of the constellation Argo, an image of a spiral maze with a triangle at the center, an image of a big star inside a heptagram - maybe it is the star Sirius inside the seven planets, maybe it's the path of Venus, maybe it's the ancient symbol for astronomy, or maybe it's all of these! Did the Minoans have a geometry philosophy called Planeism?
"IN the absence of abiding monuments the fact has too generally been lost sight of, that throughout what is now the civilized European area there must once have existed systems of picture-writing such as still survive among the more primitive races of mankind. To find such 'pictographs' in actual use -- the term is used in its most comprehensive sense to cover carvings on rocks or other materials whether or not actually overlaid with colour -- we must now go further afield." (Cretan Pictographs and Prae-Phonecian Script Arthur J. Evans, M.A., F.S.A.)
PHAISTOS DISK HIDDEN PATTERNS
OR LARGE HIDDEN PICTOGRAPHS
MATCHING PICTOGRAPHS CONNECTED WITH LINES
PRODUCE LARGER PICTOGRAPHS
Bronze Age geometry theology may have passed from Minoan Crete into mysticism as the Emerald Table of Hermes Trismegistus and then eventually became known as Sacred Geometry.
...in those days [of ancient Egypt] of initiate kings and rulers and sages who occupied themselves with the Sacred Science, when the clear Aether spake face to face with them without disguise, or holding back aught, in answer to their deep scrutiny of holy things. (Thrice-Greatest Hermes, G.R.S. Mead)
Emerald Table of Hermes Trismegistus?

The number One
The Point within the Circle


The number Two
Diameter
The Cross within the Circle


The number Three
Triangle
The Hearth of the Universe


The number Four
The Square within the Circle


The number Five
Pentagon, pentagram


The number Six
Hexagon, hexagram



The number Seven
Heptagon, heptagram



The number Eight
Octagon, octagrams



The number Nine
Enneagon, enneagrams



The number Ten
Dekagon, dekagrams



The number Eleven
Endekagon, endekagrams



The number Twelve
Dodekagon, dodekagrams
It is easy to see how a visionary artist familiar with this ancient science could envision the creation of a disk with other familiar forms - the boat, the star, the pyramid - and not just the natural geometrical arrangements (geometry) that would occur by connecting with lines the matching, randomly distributed pictographs on the disk. None of the pictographs are randomly placed on the Phaistos Disk. If the glyphs were hieroglyphs, as so many linguists are hoping for, then the ability to communicate additional pictographs would be lost because the glyphs would need to form sentences and could not therefore be precisely placed to form images.
Information about this ancient world would be completely lost in time because, in order to recall it, we would need to be able to speak or decipher the script. If we could not, then all would be lost. But a simple method of connecting familiar pictographs with lines would leave us able to comprehend their world because we would be able to see and understand the pictures without having to know the dead language, the idea being that geometry is universal, the stars are eternal, and the Great Pyramid is permanent. This Phaistos Disk method of transmitting information is brilliant, to say the least.
A pictograph is an ideogram, conveying its meaning through what it resembles, unlike hieroglyphs that tell a story using alphabetic composition. Where hieroglyphs gain meaning by successive placement of the glyphs and represent words, pictographs gain meaning by selective grouping of the signs and convey ideas by what they resemble. Where script is a language that can be deciphered and read involving speech sounds, a pictograph is a symbol complete within itself representing an object or an idea.






These disk pictographs, for example, are what they seem to resemble; a pig, an axe, a fish, and a crab. What other meanings can they have? Grouped together this way they seem to be ideograms representing parts of a wide-spread ancient Egyptian mythology well-known to the Minoans and the Aegean world - the Isis-Osiris mythology. In this set, when Osiris's evil brother Typhon was out hunting pigs, he found the body of Osiris, that he had originally tossed into the Nile inside a coffin-chest, and chopped it into pieces with his axe, then threw it into the Nile River where one of the pieces, the phallus, was eaten by the sharp-snout fish and the Nile crab.
In the case of the Phaistos Disk the locations of the pictographs are specific placeholders to anchor images and/or geometries that create even larger pictographs conveying even larger ideas. In this respect, the Phaistos Disk displays an advanced, well-thought-out system of picture writing.
Picture writing potentially can convey much more information about a civilization than a script can because it shows both the archetypal or universally understood elements of any civilization and also the elements of a specific civilization. Picture writing speaks to everyone, and this makes it a better method of communication than script for many reasons. Script is abstract and has to be learned, making script writing a part of the social, financial and political fabric of a civilization. Not everyone can understand script, and even today illiteracy rates are high even though we have to go to school to learn to read and write. But everyone can interpret picture writing. When one of the pictographs is deciphered or identified, then something about the civilization is deciphered or identified, and from this can come much information about the people, about how they lived their lives, what they believed in and how they expressed it. Arrange the pictographs differently and they mean something different. Place them in certain geometrical arrangements and, again, the meaning changes.
CONTINUOUS REPRESENTATION - NARRATIVE ART
Although the Phaistos Disk does not display a hieroglyphic narrative, this Bronze Age, pottery art masterpiece might record an ancient mythology, story or event by use of the narrative technique "continuous representation," the depiction of successive incidents or scenes within a single composition by artists telling a story with their art. It began in Mesopotamia and was fully developed in Minoan Crete in their mosaics.
The disk seems to be a fantastic example of continuous representation in art but instead of several successive scenes as in the Maze of Daedalus there are successive pictographs or ideograms. In some instances, groups of pictographs and even line segments are exactly repeated or continuously represented, indicating a careful selection on the part of the artist(s) in using certain pictographs to anchor certain images and geometries in order to create continuous representation. This would afford additional meaning for this brilliant picture writing language. These line sequences are repeated - continously represented - on the Phaistos Disk,





































Narrative art is art that tells a story, either as a moment in an ongoing story or as a sequence of events unfolding over time. Some of the earliest evidence of human art suggests that people told stories with pictures. However, without some knowledge of the story being told it is very hard to read ancient pictures because they are not organized in a systematic way like words on a page, but rather can unfold in many different directions at once. (Wikipedia - "Narrative Art")

More on picture writing see:

I LOVE GALILEO GALILEI - WHAT A GREAT NAME

(Phaistos Disk puzzle solution by Claire Grace Watson, M.S.T., left, touring Phaistos, Crete, right, sitting out in space with Galileo)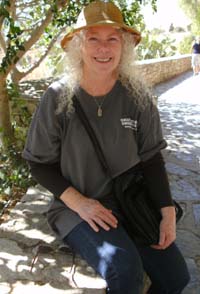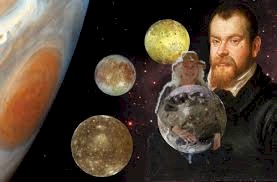 I wish I could hold hands with Galileo. I wonder if I would like him or if he bathed often enough for me? I think I would love him anyway because he wrote stuff like this that applies both to the universe and to the Phaistos Disk:




Philosophy [nature] is written in that great book which ever is before our eyes -- I mean the universe -- but we cannot understand it if we do not first learn the language and grasp the symbols in which it is written. The book is written in mathematical language, and the symbols are triangles, circles and other geometrical figures, without whose help it is impossible to comprehend a single word of it; without which one wanders in vain through a dark labyrinth. (Galileo)

IMPERFECT SPIRAL MAKES IT PERFECT

How many triangles do you see below?

(

Phaistos Disk, both sides connected at the matching line segments and all four Mother/Isis/Nurse matching pictographs connected with lines.)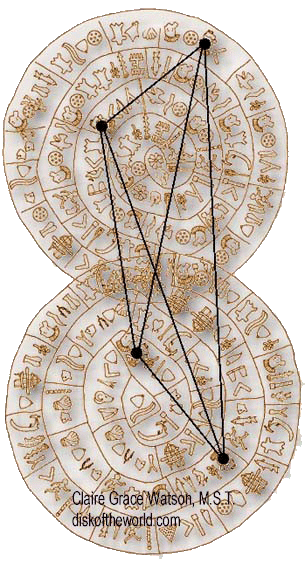 "I just wanted to tell you that I am very impressed by the astronomical and mathematical patterns you found on the Disk. I feel that the patterns you found are too many and too accurate to be mere coincidence, and joining the matching symbols is such a simple and elegant solution! I am very surprised that no-one else has noticed these patterns before!"

I had wondered before why the spiral was sort of uneven, when obviously there are a lot of "perfect" spirals in the Minoan art, but of course if the spiral was "perfect" then the patterns for the constellations and geometric shapes would not be accurate. So it makes the artistry involved in creating the Disk even more impressive!

(Rhona Bloxsom, Reading, England)

I am very impressed with your achievement and I strongly believe that you deserve complete recognition both in Greece and abroad for your profound revelation. (Nick Kallianiotis)




ALL PHAISTOS DISK HIDDEN PATTERNS

Revealed by connecting with lines the matching pictographs

This Phaistos Disk pre-Euclidean geometry, 1,300 years before Euclid, became the basis of his Elements, Books I-IV and VI and demonstrates the antique science we know as "containment of geometrical arrangements." This "earthly" science was extended to early astronomy which involved the study of the properties of a circle (containment) and the geometry of a sphere (geometrical arrangements), for use in astronomy.

For the Minoans, these "geometrical arrangements" became their identification of the constellations that are "contained" by the sphere of the circling heavens above. The Phaistos Disk may be a record of this science, a key part of the geometry theology and number philosophy that may have inspired the construction of the Great Pyramid for a closer look at the stars. The artist(s) of the Phaistos Disk takes it one step further into miniaturization art , and in so doing perserves for us the entirety of the intellectual brilliance of the age that laid the foundation of Western science and religion. Here is written Galileo's "mathematical language and symbols...without whose help it is impossible to comprehend a single word of...that great book which ever is before our eyes...the universe."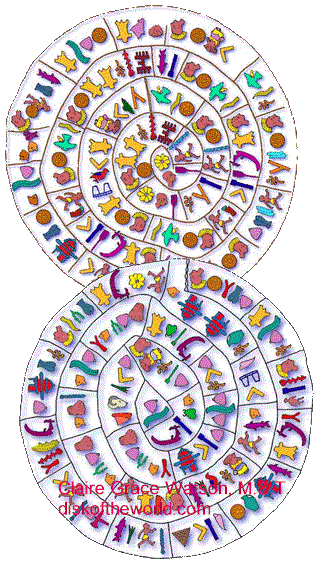 My colorized Phaistos Disk Solution overlaid onto my color drawing of the Queen's Bathroom, Knossos Palace, Crete, illustrating the wave spiral as the major symbol of the Minoan civilization.
Phaistos Disk, colorized - Bottom disk overlaps top disk at the matching vertical line segments, becomes a vertical Minoan wave spiral and Figure 8 Shield

For further research and investigation into the Disk and its cosmic significance, I highly recommend Watson's work. I believe that her insights into this enigmatic artifact will, in time, prove to be the most accurate. (Peter Sterling, Harp Magic )
BEFORE WE PROCEED, A CAUTION FROM WILL DURANT

If now we try to restore this buried culture from the relics that remain -- playing Cuvier to the scattered bones of Crete -- let us remember that we are engaging upon a hazardous kind of historical television, in which imagination must supply the living continuity in the gaps of static and fragmentary material artificially moving but long since dead. Crete will remain inwardly unknown until its secretive tablets find their Champollion. (Will Durant, Life of Greece )
---
Copyright Notice - Disk of the World - Text and images copyrighted March 21, 1993-2023, Claire Grace Watson, B.A., M.S.T., U.S. Copyright and under the Digital Millennium Copyright Act of 1998, All rights reserved.